Industrial components from Limo AB
We are mainly an agent for large world-leading manufacturers of industrial shock absorbers, vibration dampers, gas springs, seals, bushings, bellows cylinders and special pneumatics. In addition, we have our own design and manufacture of various products in the area. We can, for example, offer a completely unique customized vibration damper that will be manufactured in a very limited edition with full documentation and testing. But it can also be a custom insulator to be delivered in 10,000s numbers. If you are looking for a product that you do not find in the standard range, contact one of our technicians and we will try to find a solution.
ISO-certification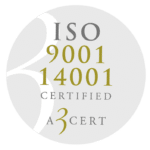 We have been certified many years according to ISO 9001 and ISO 14001 which guarantees a developed quality and environmental thinking. As we work a lot with the automotive and defense industries, we have experience of the required document management.
Industrial components
Our focus is on motion control and energy absorption. Products that we specialize in are industrial shock absorbers, vibration insulation, sealing technology, gas springs, bellows cylinders and various types of rubber / metal constructions.
Some of our clients
Below you see an example of some of our clients. If you want more information about our products and further references, you are welcome to contact us.