The basis for continuous quality improvement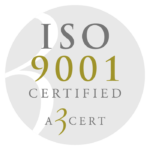 LIMO are certified according to the quality management system ISO 9001. This means that we have a structure throughout the organization for how we work with quality issues. As a certified company, we have routines for the business that are always documented in our quality manual. That the system works over time is ensured through our recurring audits and evaluations.
We know that our customers demand products with properties that meet their needs and expectations. This makes it natural for us to constantly improve and quality assure our products and processes. The work according to ISO 9001 gives us the basis for continuous improvement to increase the satisfaction of our customers.
Quality policy
Our quality work must lead to long-term relationships. Customers, suppliers and partners must experience us as professional and competent. This means that:
Our suppliers, partners and customers must experience that LIMO is a company with high quality requirements.

We shall strive to fulfill agreed delivery times, in the event of any changes, the customer is always notified, in the event of a change that has occurred.

We must provide high technical competence within our work area, this means that our staff must be able to familiarize themselves with the customer's problems in order to offer the best technical / financial solution.

Our suppliers and partners must meet the same quality requirements that we and our customers place on ourselves.

We must provide the width and depth required in our product areas, ie our customers must see us as a complete supplier.

We will constantly improve our business with the help of our routine descriptions and goal formulations.
This quality policy is re-evaluated annually according to our routines.